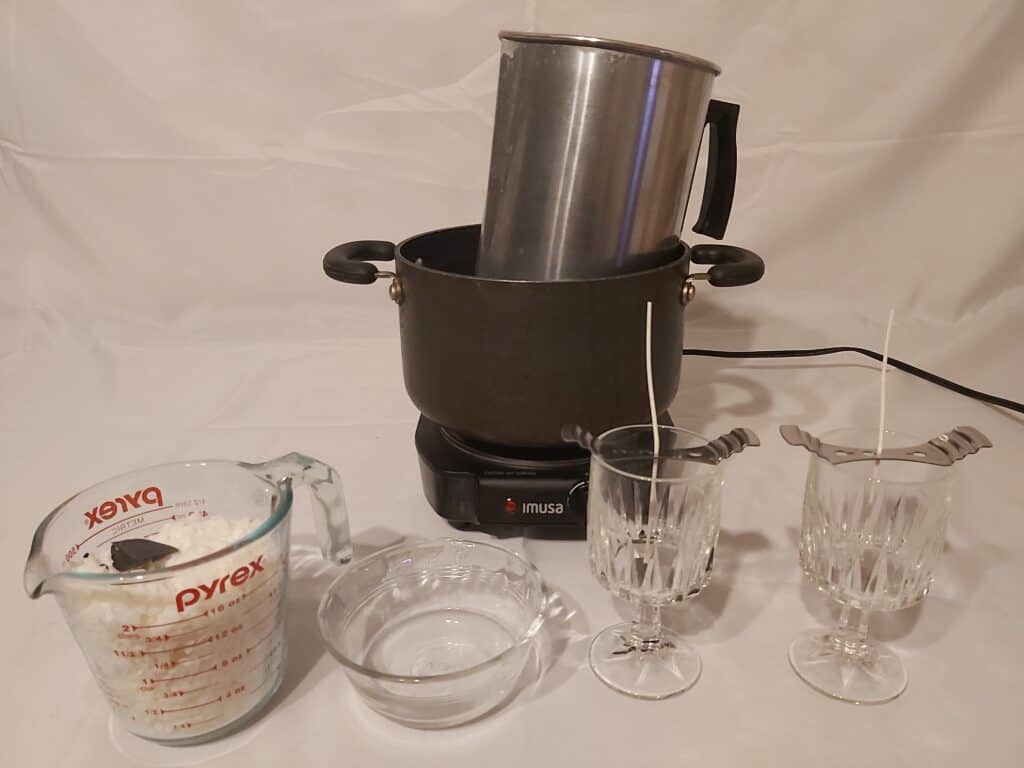 If you make your own candles you will know that there is quite a lot of work involved, and the clean-up can certainly be time-consuming. Having the right candle wax melter can help the process, and there are a number of potential wax melters that you can purchase to make your job easier.
What is a wax melter? A wax melter is any appliance or combination of pans that you use to melt the wax while in the process of making candles. Wax melters most commonly refer to presto pots outfitted to have spouts. Allowing them to easily dispense wax into candle containers and pouring pots.
For many new candle makers, making a double boiler on your stovetop will be sufficient to introduce you to candle making.
However, if you are making candles with the intent to sell them, a large presto pot may be the better option to efficiently make candles.
Do I need a wax melter to make candles? You need some type of wax melter to make candles. Wax melter types include croc-pots, presto pots, double boilers, and hot plates. You can buy an individual appliance to help you melt wax for candle making or you can make a double boiler on your stovetop.
You can always start small with as little as a pyrex measuring cup in the microwave and work your way up to a large presto pot or industrial wax melter designed for candle makers.
If you are interested in making candles you can check out our mega list of the best candle making suppliers and wholesalers.
What are the best wax melters?
1.The Presto Pot Wax Melter.
This is a professional wax melter, fit for the purpose of making your candles. It has a nonstick surface making it easy to wipe clean when you have finished using it. The Presto Candle Pot has a double-layer design and is made of stainless steel. (The type of double pot you would use for chocolate making).
The double-layer with a special hole in the side allowing you to add hot water. It has a strong handle also on the side making for easy grip, and a stainless steel lid. It is multifunctional so if you want to use it for cooking purposes you can. Not super expensive at around$60.
2. Double Boiler.
A double boiler is a good method to use as a candle wax melter. Make your own double boiler by finding a large old pot, placing some water into it then placing either a jug or a smaller pot into the water. Lower the heat allowing the water to simmer.
Using this method, it is handy to have a thermometer and to keep the water around and under 85 degrees Celsius. Check the water level so that it doesn't evaporate and top up when necessary. Allow your wax to melt in the jug or smaller saucepan.
3. Crock-Pots.
Use your traditional Crock-Pot to melt the candle wax, but don't leave it unattended. If it is an older Crock Pot just keep it especially for candle making.
4. Microwave.
Using a microwave-safe bowl melt your candle wax in the microwave. This is a simple process, place it in the candle container and then you can add another layer in a different colored wax.
Stay near the microwave to make sure that the wax isn't boiling over, as it gets hot quickly.
5. Hot Plate.
Yes, you can use a hot plate, and you can use it outside if it is portable. It is better to use the double boiler effect on top of it to melt your candle wax and get your candle-making underway.
If you are using this candle wax melter method, being outside is great, especially if you are supervising the children to make the Christmas presents.
Use different colored candle wax, and teach the children the art of candle making, and taking care around hot wax. This is a great craft activity for older kids.
The Presto Pot for Better Candle Making
Using A Presto Pot For Candle Making
Can you use a presto pot for candle making? You can use a presto pot for candle making. Presto pots are ideal for candle making because they are larger than melting pots and double boilers, allowing you precise control over the candle wax temperature while allowing you to make more candles at once.
The great thing about using presto pots to make candles is that if you melt 8lbs of wax, you can pour 4lbs into two separate pouring pots and mix different fragrance oils with them.
Thus allowing you to have one single wax melting station, but still use multiple fragrances.
Basically, if you are going to add a dye and fragrance oil to the wax, pour the wax first and then mix the dye through the wax in the mold leaving clean wax in the Presto Pot.
Can I leave wax in my presto pot? You can leave wax in your presto pot between candle making sessions. The wax left in the presto pot will simply harden, only to melt again when you begin making candles. Just add more wax to the presto pot as needed then mix the fragrance oil in the pouring pot.
Pros and Cons of Presto Pots For Candle Making
The Pros and Cons of Presto Pots for Candle Making
| | |
| --- | --- |
| Pros of Presto Pots | Cons of Presto Pots |
| Make Continuous Batches | Pouring Problems |
| Large Wax Capacity | Difficult Cleanup |
| Temperature Control | |
| Self Heating | |
Advantages and Disadvantages of Presto Pots For Candle Making
Advantages
Advantages of Presto Pots For Candle Making: The advantage of presto pots for candle making are that they can melt a lot of wax at once, they are self-heating with precise temperature controls and they are great for making large and continuous batches of candles.
If you are making continuous batches of candles and getting better at it, you owe it to yourself to have the right equipment. A Presto Pot has an inbuilt heating element allowing it to melt up to 8 lb of wax in 20 minutes.
The thermostat is adjustable, allowing you to better able monitor the right temperature. It has a nonstick surface, is easy to wipe clean, and is cheap to purchase.
Disadvantages
Disadvantages of Presto Pots For Candle Making: The disadvantage of presto pots for candle making is that it can be difficult to pour the wax from the presto pot into pouring pots. In addition, it can be difficult to clean up your presto pot when you've finished making candles and are putting your equipment away.
The best thing to do is to leave the wax in the presto pot and let it harden. The next time you are ready to make candles, just add more wax, and then it will all melt together.
The Best Presto Pots For Candle Making
The Best Presto Pots for Candle Making
When you are making your Amazon purchase, you can also purchase the wax, Beeswax, and wax dyes online, and there is a wide range available for candle making. Click here to check the latest prices on wax.
Choosing A Presto Pot For Making Candles
How to Choose Your Presto Pot for Making Candles? Choose the ideal presto pot for making candles by making sure you pick one that has a sufficient size for your candle making needs. If you plan to make lots of candles, you are going to need a presto pot that can hold lots of wax. In addition, find one with a precise temperature control knob.
You will need a large pot, to make a lot of candles at once, making the 8-quart pot a good choice.
Wax should not be melted over direct heat for safety reasons, so you need a fit-for-purpose pot or a double boiler pot.
Keep a thermometer handy where needed to monitor the temperature.
Use a nonstick pot, and always wipe the pot out when you have finished making the candles, using a warm damp cloth to avoid the wax setting in the pot.
Before you start to melt the wax make sure that you have your clean dry candle containers ready and waiting to be filled.
Also, have the wicks ready for insertion. If you have a room where you can leave your craft table set up and ready for candle-making it is much easier than having to put everything away.
Candlemakers use the double boiler or Presto Pot technique for safety reasons, and also because it promotes smooth even wax pour and no splatters.
When splatters do occur wax can cause nasty burns due to the consistency of the mixture. Use your candle wax melter for safety reasons, splatters usually only occur when the wax gets too hot.
Frequently Asked Questions
Are wax melters worth it?
Wax melters are worth it. They speed up the candle-making process while allowing you to make even more candles at once. Using a presto pot wax melter allows you to use multiple pouring pots and create multiple batches of candles from the same wax source at the same time.
What's the difference between a wax warmer and a wax melter?
Wax warmers warm wax tarts and wax melts that allow you to enjoy fragrance oils without burning candles. Wax melters are the method you melt candle wax when making new batches of candles. Wax melters include presto pots, double boilers, and hot plates.
How do you use a wax melter?
Simply add the wax to whatever you are using to melt it and make sure not to increase the temperature beyond 200°F. Once the wax has reached a temperature of at least 185°F you will be ready to transfer the wax to your pouring pitchers and add dye and fragrance oil.
Conclusion
In conclusion, you have several options when it comes to choosing a wax meter for candle making. You can use anything from a pyrex measuring cup as a beginner, to a double boiler as a hobbyist or a presto pot when you are starting out with your own candle making business. You even have bigger options beyond that.
Take your time and research what best fits your needs at your current stage of the candle making process. Only upgrade when you need to and when you think you are ready to take your candle making to the next level.
Regardless of the quantity of candles you are making, the most important thing to stay focused on is the quality. If you can give your friends, family and customers some quality candles, the word of mouth will be amazing.