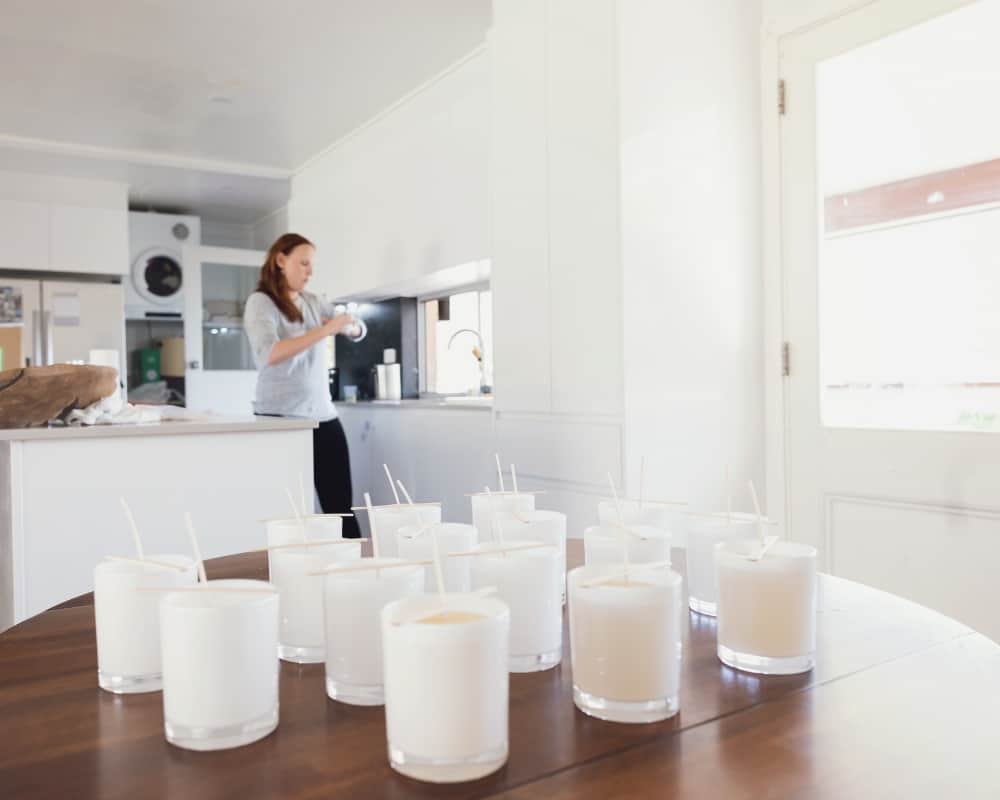 Growing your candle business is a great thing, but sometimes your business will go through growing pains. One of those is the realization that your candle-making business has outgrown your kitchen.
When this happens it is time to start looking to rent out workshop space somewhere else.
Renting Out Workshop Space
Nowadays, more and more people are trying their hand to create some profitable crafts at home like candle making. In the past few months, the candle industry and other crafts are showing some promising rates of growth. Some businesses had grown so much that they are looking to expand and rent a workshop.
Can You Make Candles In A Rental
If you are one of those who are looking to grow their business, whether it is for candle making, pottery, woodworks, or any crafts, you might have wondered whether it is possible renting workshop space. Can you make candles in a rental workshop space?
You can rent out workshop space for making candles. The main concern when making candles is the potential for strong odors from the fragrance oils. The purpose of the space should be cleared with the landlord, be well ventilated, and be in a structure that doesn't include residential units.
There are a lot of ways to get your workshop started. With the advancement of technology, all you have to do is do a quick Google search, and you will be given tons of options to choose from.
However, when renting a workshop space, there are some things you need to consider. One of the critical factors you need to look into is the type of craft you will be creating in the workshop space you plan to rent.
What To Look For In A Workshop
Every artisan will have a different specialization from another. Potters will most definitely need a different set of equipment compared to candle makers and even to woodworkers. What do you look for in a workshop space?
A workshop space should have enough room to meet your needs. You will need room for production, supplies, and an area for curing candles. Furthermore, it should have easy access for receiving large shipments of candle making supplies and an area for USPS, UPS, or FedEx to pick up packages.
Some spaces can provide you the options to meet the specifications you need in a space. Some websites can tailor your options through their algorithms to help you look for space more efficiently.
How Do You Find Workshop Space For Rent
If you are renting workshop space, there are many ways to find one that will best suit your needs. Some people would do the good old-fashioned asking around for a good workshop space for rent.
Possibly even signing a lease with a family member or a friend. While others go to social media groups and look for communities with the same interest with the hopes that they will find someone whom they can rent a workshop space from or with.
On the other hand, there are easier ways of renting workshop space. Anyone can look for the space of their dreams simply by typing in their inquiry. To get you started, here are some websites worth looking into.
LoopNet is a website that can offer anyone over half a million commercial properties for rent. No matter what you plan to create in your workshop, you will find what you are looking for. More than that, they have been in the leasing industry for a considerable amount of years.
They are known to make thorough background checks on those who are selling and renting their property. The same goes for the people who plan to use their products. More than that, they value efficiency, so all you have to do is set the criteria for the workshop you are looking for.
They can provide you with hundreds of options together with the contact information of either the owner or the management companies in association with the property.
This website offers to rent workshop space options and other kinds of spaces that will most definitely benefit any business. Whether you are looking for a space for sale or lease, they have it all. They offer retail, office, land, hospitality, and industrial spaces, to name a few. Plus, they boast a relatively simple interface that any user can easily navigate.
Commercial Exchange offers workspaces across the country. They can even negotiate a group discount for their customers through an email or a phone call.
This company also offers some of the best customer services for they provide their users a training session or a demonstration through their email.
Warehouse Exchange places a high premium on customer service and experience with the flexibility it can offer. Besides providing a space for your workshop or warehouse, they can also offer a system that will allow you to get whatever you may need for your workshop and, most importantly, your overall business operations. Plus, they have a range of storage options and methods that can benefit your workshop.
There are some arts and crafts that can be pretty delicate. With Warehouse Exchange, you can also get options you never thought you might need for your business.
Renting Workshop Space To Yourself
If you are struggling to find a commercial property, you have some additional options when it comes to getting a great workshop space. However, this option is very dependant upon your budget and what type of property you own. Can you rent workshop space to yourself?
You can rent workshop space to yourself. You can build out an area with your own money, and then rent that workshop space to your business. Earning rental income from your own business, rather than paying it to someone else. Speak to a tax professional to work out the details beforehand.
Renting a workshop space to yourself can actually lower your overall tax burden. You will be able to pay yourself a lower hourly wage because your income is being offset by the rental income from the business. In addition, as a rental property owner, you will have the opportunity to take more tax deductions.
Renting A Storage Unit For Workshop Space
A workshop space can cater to a variety of workers. Some workshops house a woodworker, a sculptor, a candle maker, and a whole lot more, depending on the craft they specialize in. Can you rent a storage unit for workshop space?
You cannot rent a storage unit for a workshop space because storage units do not have adequate ventilation. In addition, it is likely the storage facility will not allow it. However, a storage unit can help you in storing supplies, storing inventory, and a place for shipping and receiving orders.
Those benefits of a storage unit can help you scale up your business while still working from home. The ability to keep more supplies and inventory will help hold you over until you find a workshop space.
A space for crafts should have specifications to ensure safety at all times, not only to the workers but also to everyone else surrounding the place.
For example, they need to have the best fire prevention measures for someone planning to create candles. Equipment used for candle makings, such as wax melters and heaters, can be fire hazards.
A storage unit would only typically have boxes that will move in and out of the space. However, people will be working in a workshop, and they will most definitely need some electricity. Simply put, a storage unit should not be a place for a workshop.
Rental Workshop Space Insurance Requirements
Do I Need Insurance When Renting Workspace?
Typically, the landlord of a workspace already has insurance for the place. However, in terms of your own business, it is best to get insurance. More than that, some commercial spaces will require the lessee to provide a certificate of liability.
This document proves that your business is insured. The landlord's insurance may provide coverage to the damages of the physical building, but it may exclude the contents, which can put your workshop at a disadvantage.
What Insurance Do Commercial Tenants Need?
The best insurance commercial tenants should get a liability insurance policy for both their rental unit and business. This insurance policy covers the landlord even the tenant is injured in case of an accident which is also crucial to avoid any legal problems.
Aside from the benefits, the landlord may get, the liability insurance protects the lessee. For example, if someone was hurt on the property, the insurance may cover it. More than that, even legal fees, judgments, settlements, and other court costs could be covered by this insurance policy.
Conclusion
In conclusion, you have a lot of options when it comes to renting out workshop space to expand your candle making business. You can look through a variety of commercial property listings, or even rent a space to your own business.
Just make sure that the space you choose has everything your business will need to succeed. You will need plenty of room, an area for shipping and receiving and in some cases, a location with a storefront might even be a good idea.