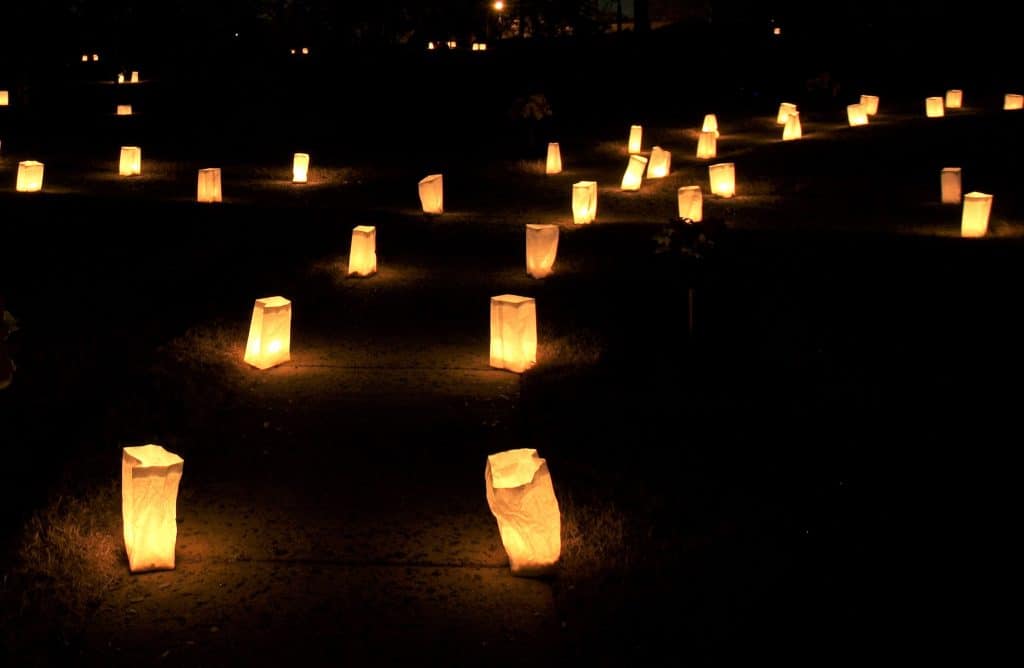 Luminaries are a great way to add some ambiance or aesthetic lighting to your wedding, ceremonies, party or events. They were once a regular in the fall and winter but now they are used all year. You can use them both indoors and outdoors but how do you make them?
How Do You Make Luminaries? Open the paper bag and fold the top down, add a few cups of sand to weigh the bag down, and hold it upright. Place a tealight, votive, or LED light in the bottom of the bag, and then place the bag along the walkway to your event.
Luminaries come from a long and diverse history including European religious traditions, Peublo Indians and Chinese lanterns. Today they are used by diverse people all over the world for religious ceremony, weddings, parties and other events.
Let's take a closer look at how luminaries are made.
How Do You Make Luminaries?
Let's take an in-depth look at how luminaries are made what types of materials can be used to make luminaries.
Things needed to make luminaries.
Paper Bags
Sand or Weight For The Bag
Tealight, Votive, or LED lights.
Open Paper Bag
You can use brown or white paper bags to make your luminaries. Open the bags and you can choose to fold down the top or not. Some people like to fold them down but I like them unfolded. See my choice on Amazon.
Insert Sand or Weight
If you are having a one-time event then sand is a great option to weigh down your paper bag. However, if you have events often or provide a service decorating for parties and events you might want to consider an alternative to sand or placing the sand in a plastic bag.
This is so that you can re-use all of your materials and save money in the long run. In addition, you will always have the materials for luminaries on hand for every event or to help out friends or family. See my choice on Amazon.
Insert Candle or LED light
Tealights, Votives and LED candle lights are all popular choices for luminaries. See my choice on Amazon.
Burn time should be considered when making plans to order your candles or led lights. Let's take a look at burn time for each.
Tealight – 4 hours
Votive – 12 hours
LED – 30-70 hours
Once the candle or light is in place you are ready to place along walkway.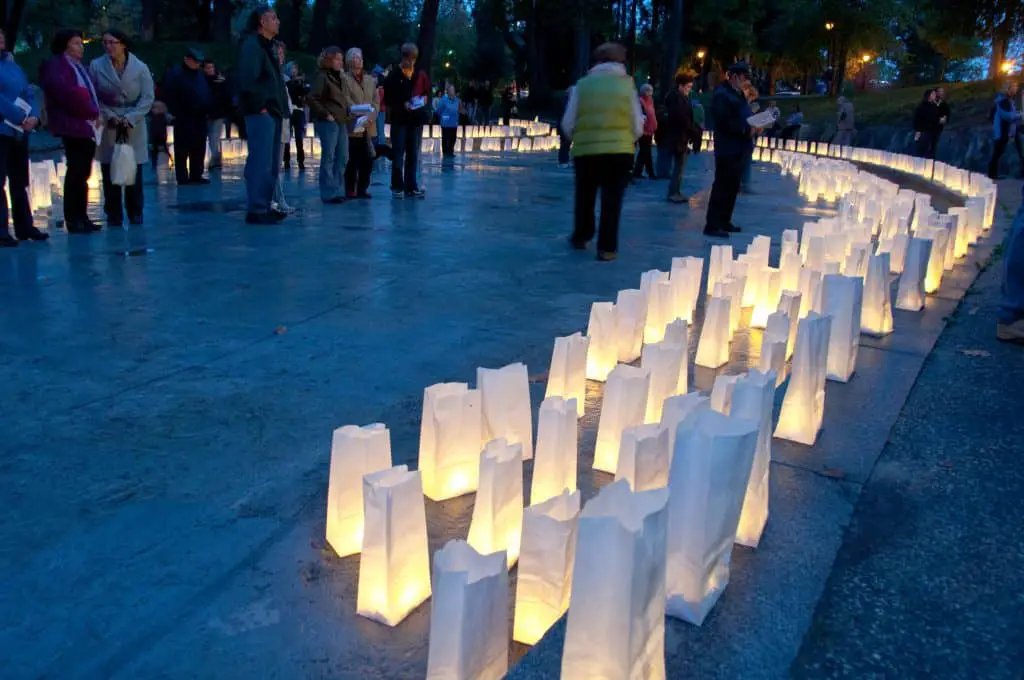 Frequently Asked Questions
Let's look at some frequently asked questions related to luminaries.
How Do You Make Luminaries Safe?
Flameless Votive or Tealight LED candles are absolutely safe. You can get clear bright white lights or you can get yellow-tinted twinkling lights that try to simulate the flame of a candle.
How Far Apart Should Luminaries Be?
Luminaries should be between 2 and 3 feet apart. If I were spanning a long distance I would place them 3 feet apart. If I were using them in a short distance I would space them closer to 2 feet apart.
Conclusion
Luminaries are a great way to add a little something extra to your party, event or wedding ceremony to take it to the next level. However, they take a lot of work to set up when using real candles because once the first candle is lit you are on the clock.
For this reason, I suggest going with the 12-hour votives or the 30-70 hour LED candles. This will help make the job a little bit easier for the person that is setting up the decorations for your party or event.