Traveling during the holidays means transporting a lot of gifts along with you, but are you allowed to bring all of those gifts on an airplane? Candles make a great gift and are perfect for the holidays. However, I found myself wondering can you bring candles on a plane? How easy they are to transport when traveling? Let's take a look. Can you bring candles on a plane?
TSA allows solid wax candles to be carried on and placed in checked luggage when traveling by air. Gel candles must be placed in a checked bag, but the final decision rests with the TSA officer whether your item is allowed through the checkpoint.
Gel candles do not meet the gel and liquid requirement to be allowed in a carry-on. You can read more about that at the Transportation Security Administration.
Let's take a look at what some specific airlines say, other countries, and the proper ways to pack candles in your luggage.
Airlines On Bringing Candles On Planes
Many of the airlines did not explicitly state their own policies on their websites so I went to social media to see what they've posted.
Can you bring candles on United Airlines?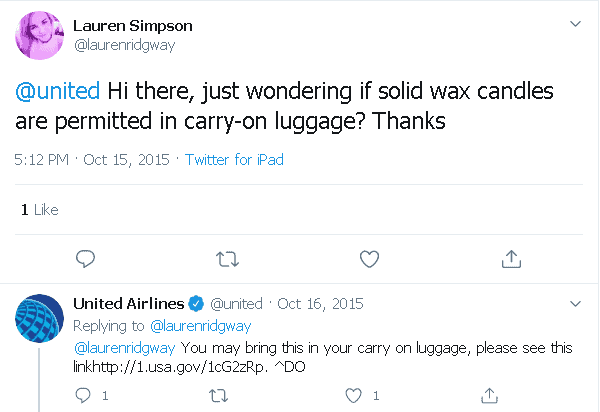 Yes. United Airlines confirmed that you can bring candles in your carry on luggage.
Can you bring candles on Spirit Airlines?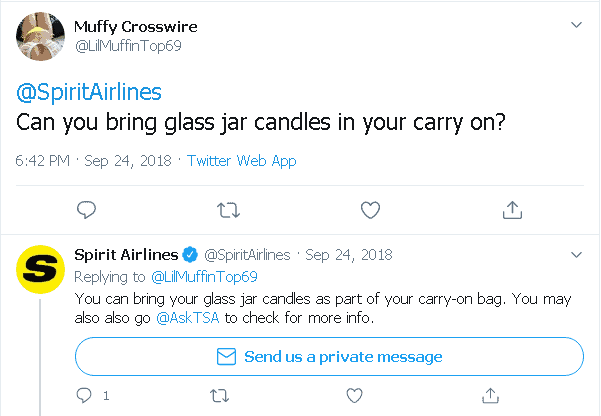 Yes. Spirit Airlines confirmed on twitter that you can carry-on candles on their flights.
Can you bring candles on Alaska Airlines?
Alaska Airlines confirmed that you can bring solid wax candles as a carry-on but gel candles need to be in checked luggage.
Can you bring candles on Southwest Airlines?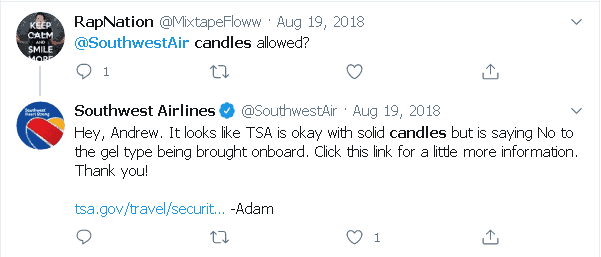 Southwest Airlines states that solid candles are okay, but gel candles are not.
Can you bring candles on American Airlines?
American Airlines confirmed that it is okay to carry on candles for use at your destination.
Can you bring candles on JetBlue Airlines?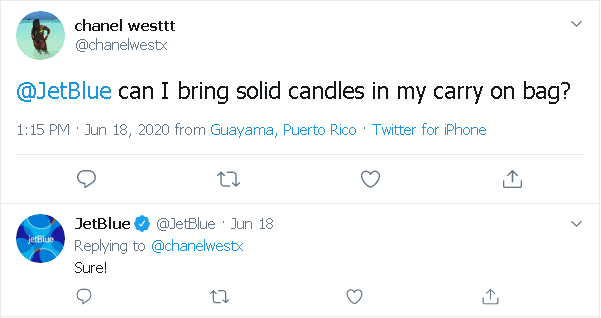 JetBlue confirmed on social media that candles are allowed in your carry-on bag.
Bringing Candles on International Flights
I was not able to find as much on international airlines.
Canada has a similar policy as the TSA, in that solid candles are allowed in your carry on but gel candles are not.
Can you take candles on Cebu Pacific Air?
Cebu Pacific Air was contradictory about its candle policy so it is suggested you call ahead or be prepared to make other arrangements.
Gel Candle vs Solid Wax Candles
We are seeing a difference in the policy for gel candles and wax candles.
Can I bring gel candles on a flight?
You can not bring Gel Candles in a carry-on. Gel candles fall under the TSA rule regarding liquids, gels, creams, and pastes. They can not be transported in amounts of more than 3.4 ounces.
Wax Candles
Wax candles are solid when they are not being burned, and you can not burn them on a plane. This makes candles okay to carry-on to a plane.
How to pack candles for a flight?
So we have established if you can bring the candles on a plane, not lets figure out how to pack them in your luggage. I have done some research in to this and this is what I have found.
Wrap the candles in newspaper and then roll them up in a few towels or t-shirts. Then place them in the middle of your luggage. The paper will prevent the wax from rubbing off on your clothes or towels and the t-shirts will help protect them against potential breaks.
If you wrap your candles with care and have them surrounded by the rest of your clothing then your only worry will be if the airline loses your luggage, not if your candle breaks.
In addition, this will allow the TSA agent to access them to inspect them if necessary. Just do not wrap them in wrapping paper or gift paper as the agent may need to unwrap the candle to inspect it.
Alternatives To Flying With Candles
You have other options besides flying with the candles if you are really worried.
Mail It
Mail your candles 4-5 days before you travel to visit grandma and they will arrive while you are visiting. You can go to a local post office to verify the shipping time and arrival date and get tracking info.
Depending on the candle size you can do this cheaply with USPS cubic shipping. packages under a certain size or weight can be sent anywhere in the lower 48 states for less than $10.
Direct Shipping
If you are buying something online for a friend or loved one consider shipping it directly to their house. Amazon and many retailers also have a pickup location option.
So you can sneak away while visiting and go pick them up.
Some retailers even provide gift wrapping. You can have it wrapped for you with a note included. This is also a great option to consider when when shipping candles for the holidays.
Frequently Asked Questions
Where Can I Get Packing Material To Mail Candles?
You can get packing material to mail candles from Uline, however, if you are only mailing one candle you might be better off using a flat rate bubble envelop from the United States Postal Service.
Where Can I Order Candles That Will Gift Wrap Them?
Amazon has a large selection of candles and provides gift wrapping service for an additional charge. You can select this option and see the associated fee at checkout.
Can candles go through airport security?
Candles can go through airport security. However, gel candles can not be brought on a flight because of the TSA regulations regarding gels and aerosols.
What size candle can you take on a plane?
Solid wax candles are allowed to be brought on most airlines flights. However, gel candles must be no more than 3.4 oz or packed in checked luggage due to TSA rules for gels and aerosols.
Conclusion
To sum it all up, confirm with your airline that it is okay or just ship them directly. Even the TSA website that says solid wax candles are okay says it is also at the discretion of the TSA agent whether your candle will be approved.
Personally, if the candles were not THAT expensive I would roll the dice on carrying them on or putting them in my checked luggage. This is so that I won't feel bad throwing away a fortune in candles at the gate.
If the candles are on the more expensive side, I would just mail them or have them shipped directly. So they are waiting for me when I arrive.