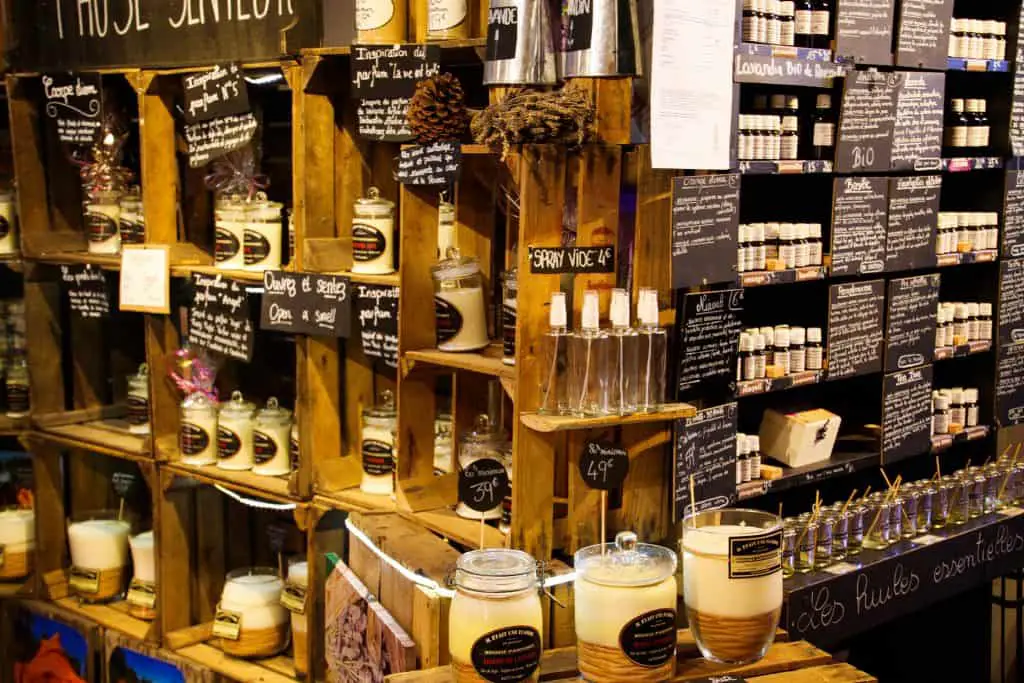 Starting a new business can be stressful, but the one thing that can relieve that stress is making money. If you want to make money you are going to need a marketing plan to get your business off the ground.
According to the  U.S. Bureau of Labor Statistics, about 20% of new businesses fail in the first year, 30% by the second, 50% by the fifth, and only 25% of businesses will survive to the 10 year mark.
One of the best ways to make sure you are a success and not another statistic is to sell more products, and you do that through promotion.
Let's look at some of the best ways to promote your candle business!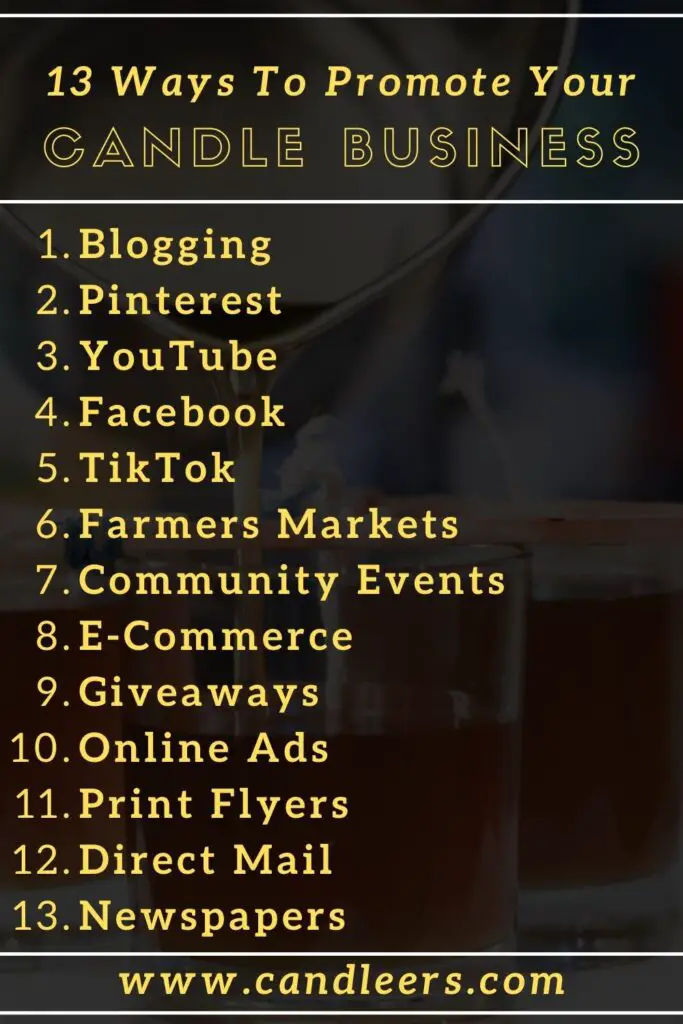 13 Ways To Promote Your Candle Business
13 Ways To Promote Your Candle Business
Blogging
Pinterest
YouTube
Facebook
TikTok
Farmers Markets
Community Participation
E-Commerce
Giveaways
Paid Advertisements
Print Flyers
Direct Mail
Local Newspapers
1. Blogging
Start a blog. This is the first thing I am suggesting to you because nearly everything else revolves around it. Get a domain that matches your business and start a blog.
Setup an eCommerce store or Shopify on your blog or link it directly to your Etsy, eBay, or Amazon.
Start writing articles about candles you think people are looking for or what to know. A good way to get ideas is to look at what topics are trending on social media and Pinterest.
In about 6 months, those articles will start bringing you organic google search traffic.
2. Pinterest
Pinterest is a visual search engine that is great for selling visual products. If you make a beautiful product, and hopefully you do, then Pinterest can be huge for driving traffic to your product.
Gather a variety of your candles in different sizes and styles and ask a few of your friends to help you take some pictures. Set up different scenes on your house, their houses, outside, on the patio, anywhere you can get a nice picture.
Get as many pictures as you can and then you can use these pictures to create pins for your products. Ideally, you should have a batch of photos for every season.
Then you can loop them and 90% of your Pinterest work is done.
3. YouTube
Start a YouTube channel and it will benefit you in three ways.
First, is that when you link your website in the description of every video, it will bring traffic back to your site and help with SEO.
Second, even if people just come to YouTube to watch you make candles or to learn about candle making, you will still earn ad revenue from those videos. This can be tens of thousands of dollars depending on how popular your videos are.
Third, YouTube now has its own version of TikTok called YouTube Shorts. You can cut up videos for YouTube Shorts and repurpose those same videos for TikTok (which we will get to later).
4. Facebook
Set up a business account on Facebook.
Try to post like you are a normal person without every single post being self-promotion.
Post some pictures of buying supplies, post pictures of the candle-making process. Engage with people and ask their questions.
Then when you launch a new product, announce it on social media and link to your website.
You can even boost your Facebook posts for a few dollars each and target anyone that has ever visited your site. It is a great, but affordable way to generate clicks.
5. TikTok
TikTok has seen enormous growth and is now one of the most visited sites on the internet.
The great thing about TikTok is that if you just record yourself packaging candles, making candles, or doing any of the other related tasks that you do every day you can cut the video and add a voiceover giving you endless TikTok content.
This even includes repurposing videos that you took for youtube or had previously used on youtube.
It is beneficial that TikTok videos are so short, this allows you to produce more content while filming fewer videos.
6. Farmers Markets
Not only is a farmer's market a good place to sell your candles, but it is also a good place to create awareness for your product.
It can cost a few hundred dollars to get a spot at a local farmers market, so make sure it is something you will be committed to.
In addition, make sure you have enough candles with the right price point to make it profitable.
7. Community Participation
Sponsor some park benches in the local park, donate to some charity event or donate candles for a fundraiser.
It will cost you some money, but it will also build good will in the community and create awareness for your product.
It can also turn into great word of mouth promotion of your business.
8. E-Commerce
You can get your product on sites like Etsy, Amazon, and eBay and all you have to do is pay associated fees. They already do the work of bringing in customers, so you just have to have an eye-catching product.
I suggest setting up your website and making sure your web address is on your label first.
That way when a customer from Etsy or eBay buys a candle they might decide to visit your website and join your email list if they like your product.
9. Giveaways
Run a contest on your YouTube, Pinterest, Instagram, or Facebook for a giveaway. Make 10 nice candles and run a contest for 10 winners.
These types of contests can increase your following and help build the email list on your website.
A lot of rules also exist regarding these types of contests on social media, but you can have a third-party website to help you manage it for a fee. I have used gleam.io and had a great experience.
10. Online Paid Advertisements
If you are making a really high-end product with a really high-end price then paid advertisements might be the right choice for you.
You can pay for social media advertising to get your product in front of more people or promote your brand on Google with paid advertisements.
11. Print Flyers
Some of the local grocery stores near my house have bulletin boards at the entrance to the store.
If you look around you will probably find a lot of places near you with this same type of community board.
This would be a great place for you to post some flyers for your business with contact information or your web address.
12. Direct Mail
You can go on the USPS website and get the addresses for thousands of people and businesses near you and have mailers printed to send them promoting your product for only a few hundred dollars.
I would reserve this for only if you have an actual physical location.
However, if you only wanted to target small business owners in your area, this could be a great way to get your candles in some locally-owned shops.
13. Local Newspaper
Yes, news papers are still a thing.
You can either pay for advertisements in the paper promoting your business or you can pay for a listing in the 'for sale' section listing your hand-crafted hand-poured candles.
Include your web address, email, or business phone number.
Newspapers have seen steep drops in revenue over the last few years, which creates some affordable advertising opportunities for you to promote your business.
Conclusion
In conclusion, you have a variety of ways to promote your product both paid and free. Ideally, you will be doing as many of these things as possible.
You want your only problem to be that you have too many orders to fill. This can also be stressful, but it's a lot better than having no orders.